Simplify sustainability. Future-proof your business.
Take control of your sustainable transformation now!
​
Our world-class business impact profile builder, will enhance your C-Suite's and board's decision-making, expedite your hiring and ensure that you are not merely complying but instead leading in this fast-moving field.
Design Your Sustainability Journey
Conduct a board and C-Suite evaluation, and identify your sustainable growth opportunities.
Place Sustainability Leaders
Our smart tech connects you with the right board and C-Suite leaders to drive your future value creation.
Leverage Global Expertise
Access a global network of sustainable leaders and their know-how, knowledge and competencies.
Developed With Beth Knight
Beth Knight, honored as 'Great British Businesswoman of the Year' in 2022, is a leader in social impact and sustainability with roles at Cambridge Institute of Sustainability Leadership and Save the Children's board. Her career spans significant positions at Amazon, EY, and Accenture, and she pioneered the UK's Corporate Responsibility and Sustainability Apprenticeship standard.
Create Your Business Impact Profile
Our Business Impact Profile builder, is a pioneering assessment based on our innovative sustainable business framework, representing 5 dimensions and 6 leadership archetypes, with relevant skills and qualities which are especially crucial for leaders who address sustainable business transformations.
​
This framework is designed with data-driven insights from an ever-growing body of research on the changing values, beliefs and motivations of the most effective leaders in sustainable business. Insights from organizational psychology and published studies on sustainability leadership have been tested, analyzed and applied to 'role model' leaders in over fifty sustainable businesses operating in over twenty countries on every continent (excl. Antarctica!).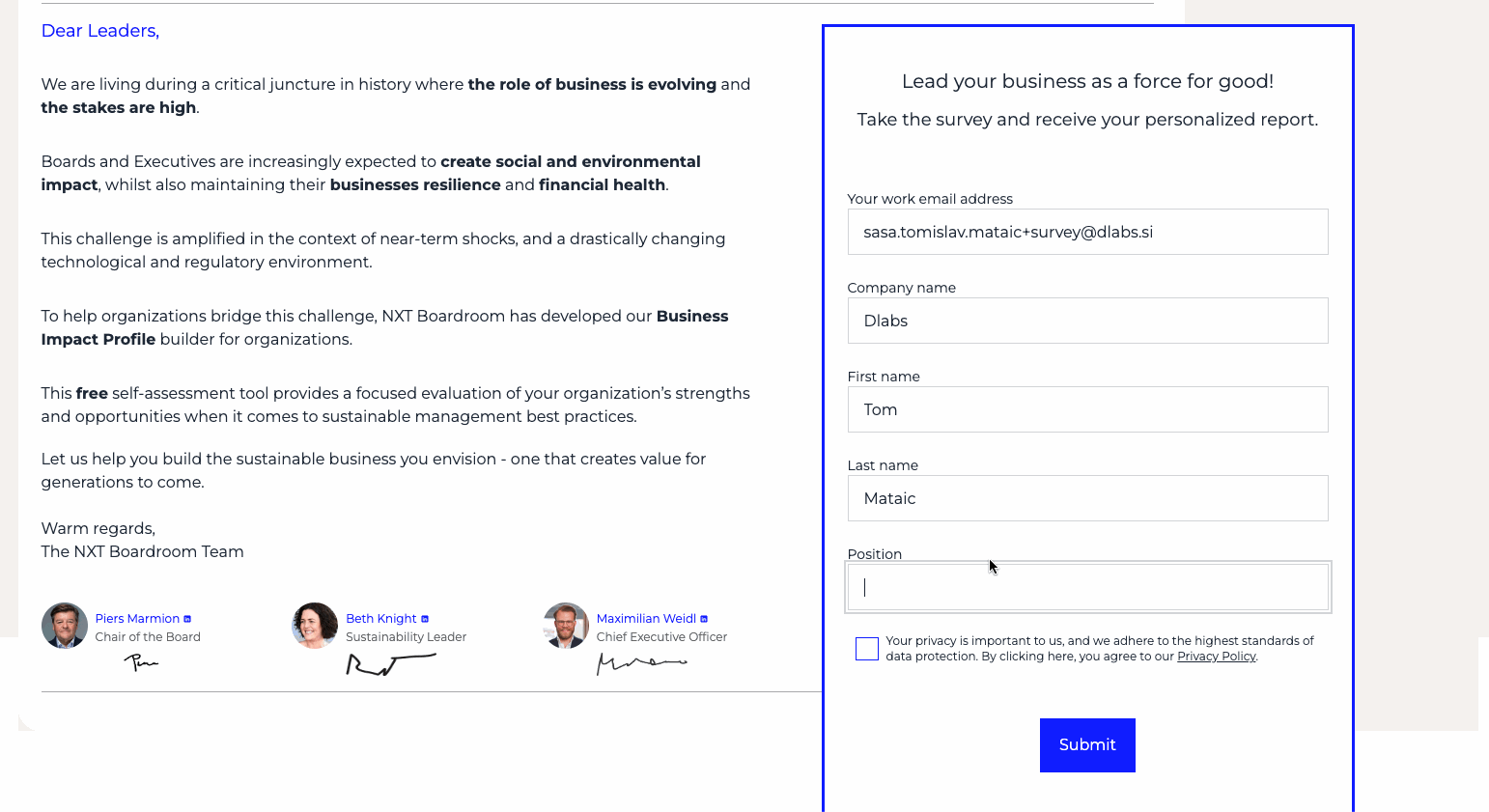 We engaged NXT Boardroom to find a board advisor with a very specific profile. We received a match beyond our expectations in only a few days. The process could not have been easier, faster or more accurate. A simply incredible network platform at board level
​
Todor Gigilev
Chair of the Board Dreamix